We honored our Boys Varsity Soccer graduating seniors during a Senior Recognition Ceremony tonight. Here's what Coach had to say about them: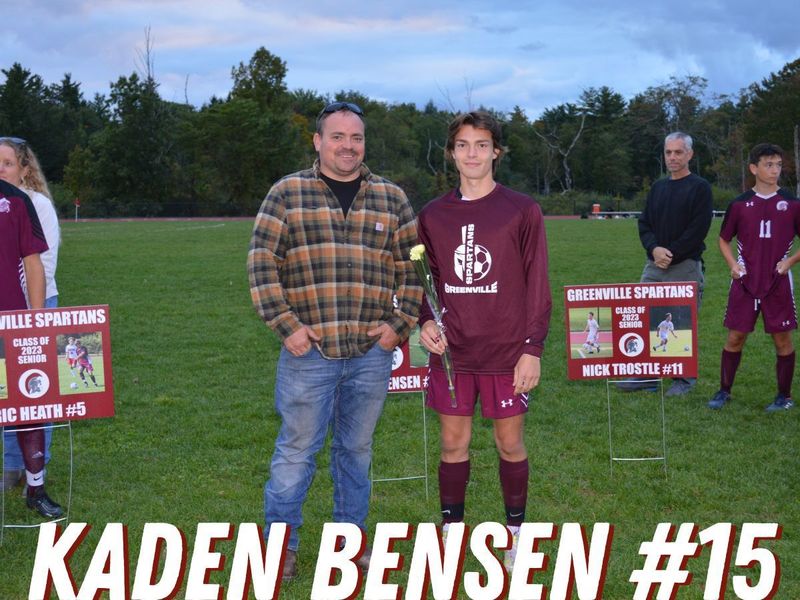 Kaden Bensen
"Stepping into this position with Jared this year was exciting, but I can't say it was without worry. The great thing was, I knew that I had two seniors that were returning for their fourth year of Varsity soccer. I selected Kaden as Captain back in June, and he has not disappointed.
Kaden has been a role model for his teammates, including those on JV who have a tremendous amount of respect for him. He teaches, redirects, and plays the game with a passion that is tough to match. Kaden is about as dependable and reliable as they come, he is a tenacious competitor and leaves it all out on the field. His teammates describe him as calm, collected, brave, and focused.
Kaden does the little things that lead to team success, without considering his personal achievements. He truly is team-first, and a young man anyone would want to lead their team. It's been a pleasure for both me and Jared to coach him this year, and we are thankful for all his help as co-captain of this team. Thank you for your leadership, work ethic, and willingness to do the unseen things that lead to team success."
Sebastian Gangi
"This young man impressed me with his commitment to this team before he even stepped foot on the field. He has been as passionate as any o fhis teammates, and the determination he has exhibited has been inspirational. Although he hasn't been on the field until today, he's been with us every step of the way. On a side note, it's great that he joined us on the field because his side hustle of doing books for the team left a bit to be desired. Sebastian, thank you for your dedication to this team."
Eric Heath
"During practice one day, I asked the players to think of a player on the team that they would rather play with than against and to think of a trait that player had that they would want to add to their own toolbox. Many of the players talked about Eric, his tenacity, his willingness to win 50/50s, and to run through the ball, or the man.
Like the other seniors, Eric gives everything he has when he is on the field and has been a great teammate. Eric, thank you for your hard-working and inspirational play. You've been a pleasure to coach."
Ryan McNerney
Ryan has been such a great addition to the team this year, I only wish he had been playing for the last four years. He has improved tremendously in a short amount of time and has had fun doing it. Ryan always has a smile on his face and does a great job keeping smiles on the faces of those around him. Like the rest of our seniors, Ryan gives 100% every time he hits the field, he makes goal-saving plays even from the front line, and he is a pleasure to coach.
Ryan, thank you for your sense of humor, your work ethic, and for being you no matter the situation."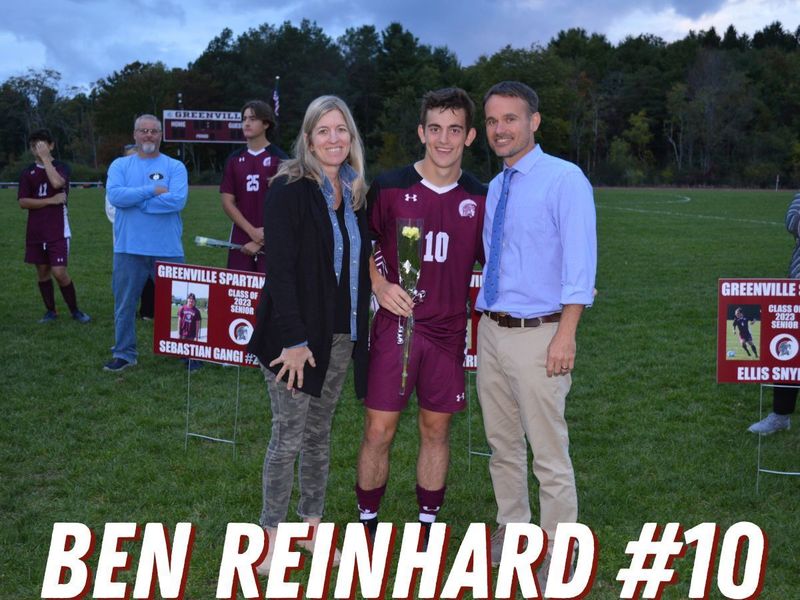 Ben Reinhard
The second returning player with four years of Varsity experience is Ben Reinhard. Ben was also selected as Captain of the team. When asked to describe Ben, the underclassmen used terms like GOAT, motivational, and generational. Ben has been a tremendous leader on the team, running warmups, teaching others, and providing inspirational play. He has been a coach on the field for us and like his co-captain, he leads by example. Ben makes the players around him better, which is all you can ask of a leader. Ben is focused on team success.
Ben, thank you for your feedback, commitment to this team, and willingness to do the unseen things that lead to team success. You have an unquestionable impact on those around you."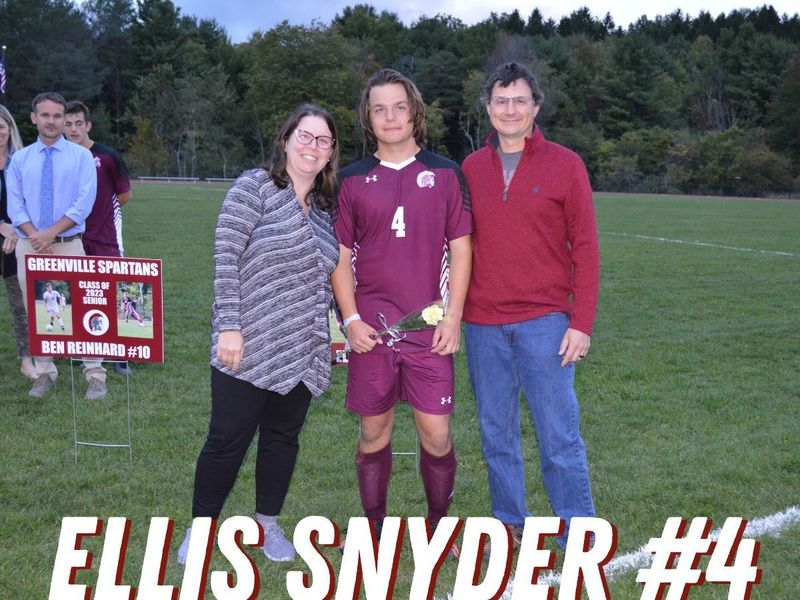 Ellis Snyder
"Ellis has been a versatile player for us this year, playing several positions. His unorthodox style has led to several opportunities for himself and his teammates. He has tremendous power in that right foot, and if we can get him to aim at a goal and not over it, we'll be celebrating that foot a bit more. Ellis is respectful, unselfish, and a kind teammate. He has the drive to get better and has been a pleasure to coach this season.
Thank you, Ellis, for your positivity and your great attitude."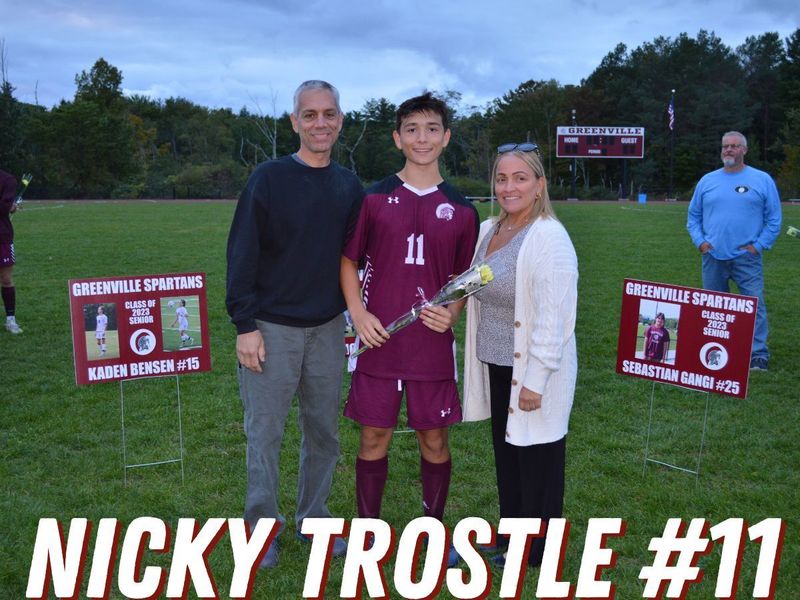 Nicky Trostle
"When asked to describe Nicky, the underclassmen describe him as friendly, focused, and hard-working. Nicky gives everything he has when he steps on the field. He has been consistent in possession and has played several positions for us equally well this season. Nicky, like so many other players on this team, is a team-first player. Nick puts the team ahead of his own personal goals and it shows in the way he plays.
Thank you, Nicky, for your hard work, unselfish play, and for being a pleasure to coach."
"Seniors, thank you for your years of participation on the Greenville soccer team. You have left this program with a lasting legacy, one that upcoming generations will want to live up to. As we move forward with the rest of our season, know that we still need to grow together as a team to overcome some of the challenges we have facing us in the next few weeks. I hope you enjoyed your final home game here at Greenville as much as we did. We wish the very best for you in the future."