Student Tristen Gallagher was recently published in The Greenville Pioneer: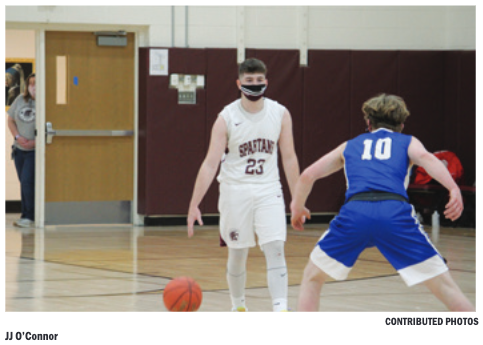 Through a school year of uncertainty, COVID-19 has been the one thing that has seemed to stay consistent. One area in which COVID has created a lot of uncertainty is high school sports. In the fall, many sports went on with modifications for safety, but winter sports have been on again off again. After the back and forth on opening winter sports, many schools are allowed to play basketball, volleyball, cheer, and even wrestling.
Some of the necessary precautions Greenville High School is taking are mandatory testing of athletes twice a week, mask wearing in games, and no spectators. But, due to the Greenville district being over the four-percent risk, the teams had to have their season cut down to only eight weeks from the normal five months, including games.
Five-year varsity coach Dane Carpenter expressed his gratitude for even being able to have a season. He said, "I think that just hav-ing any type of season is better than nothing," he said. "Especially having eight seniors, we tried to maximize the amount of games we are able to play over a short period of time." The Greenville varsity team is planning on playing around twelve games this season to make up for the cancelation of a big event that most students look forward to every year, the Patroon Conference.
The Greenville Boys Varsity players have pushed themselves to prepare for their first games of the season. Because of the shortened season, students are having to practice every day after school and sometimes on weekends to fully prepare themselves for the season. Graduating senior Eli Larson, who is new to the team this year, believes that the team is doing "extremely well for hav-ing such a shortened period of time" to not only get ready, but to add another player to their team. The team is adapting to all the challenges that come with COVID-19 regulations and guidelines.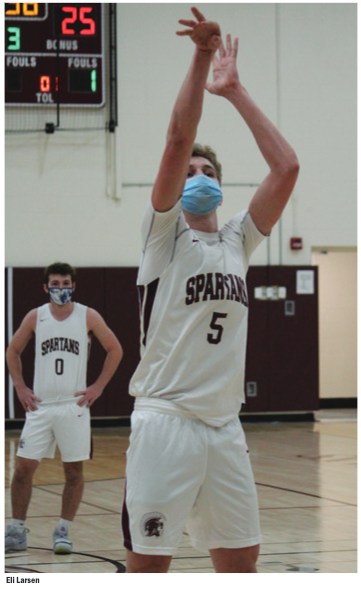 The eight graduating seniors are all grateful to even be able to play this year due to the pandemic and restrictions imposed by the Centers for Disease Control and Prevention and the Greene County Department of Health. Though the players are glad to be al-lowed to play at all, the disadvantages of hav-ing to wear masks and not being able to have spectators cloud the opportunity. "Because of the shortened season, I am just grateful to be able to play, especially since it is my senior season" said senior JJ O'Connor. "If wearing a mask means that I get to play for my final season, then I will."
Student athletes at Greenville High School have been pushing each other to play to their best ability due to their shortened sea-son, in order to end their year of strong. "I feel like this year we are working even hard-er because for most of us, it's our last year, and we don't want to waste it," said graduating senior Damien Fiducia. The Greenville boys are not only pushing each other more because of the short season, but because this year there is not going to be any sectionals, so the team members want to feel as though they ended their final season strong and made the most of what they have.