HS/MS Spirit Week starts Monday, 9/20.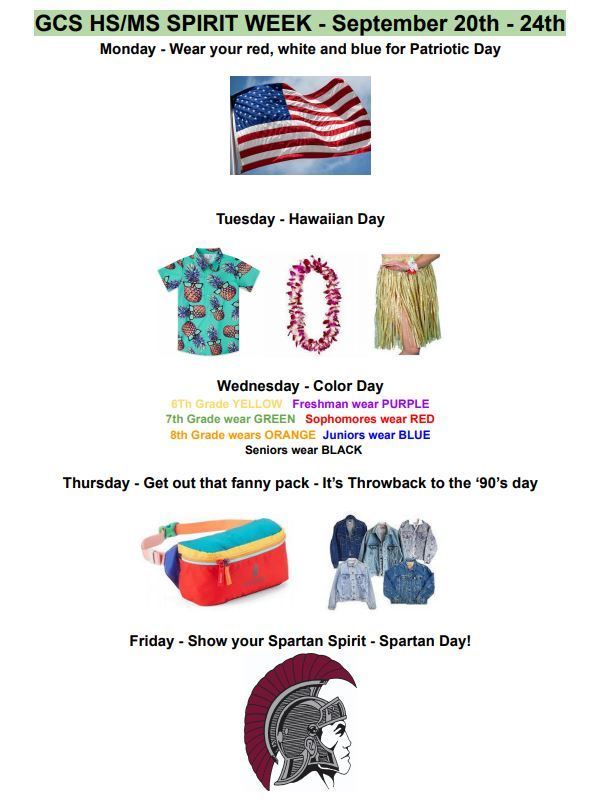 Opening day for the 2021-2022 school year!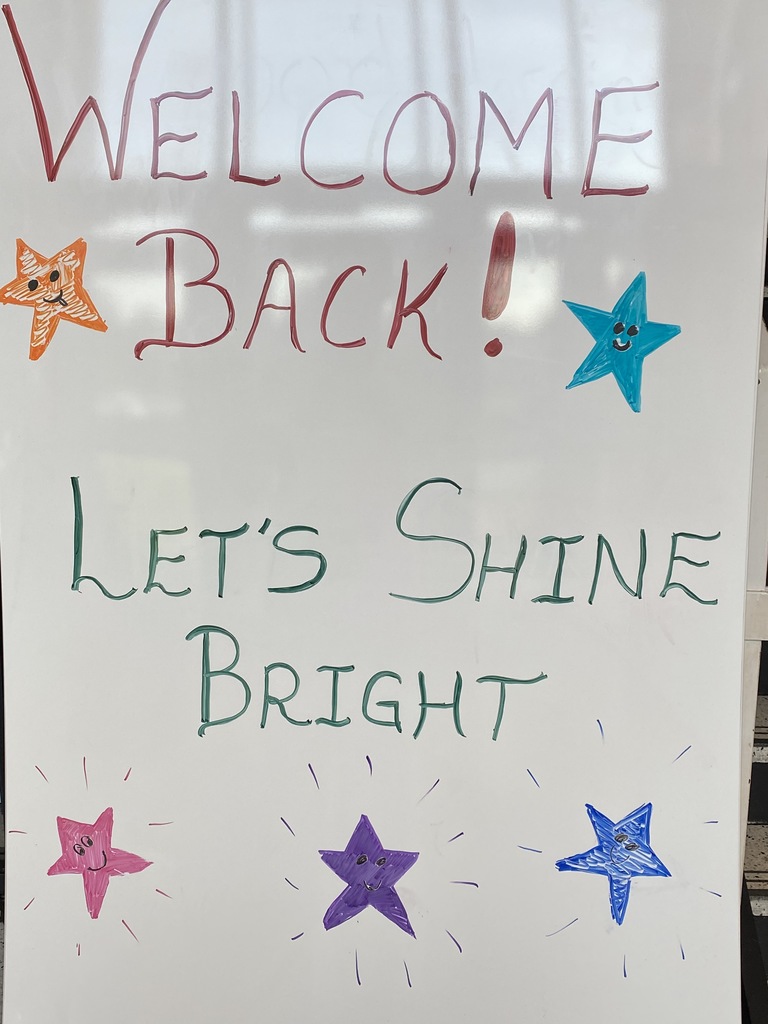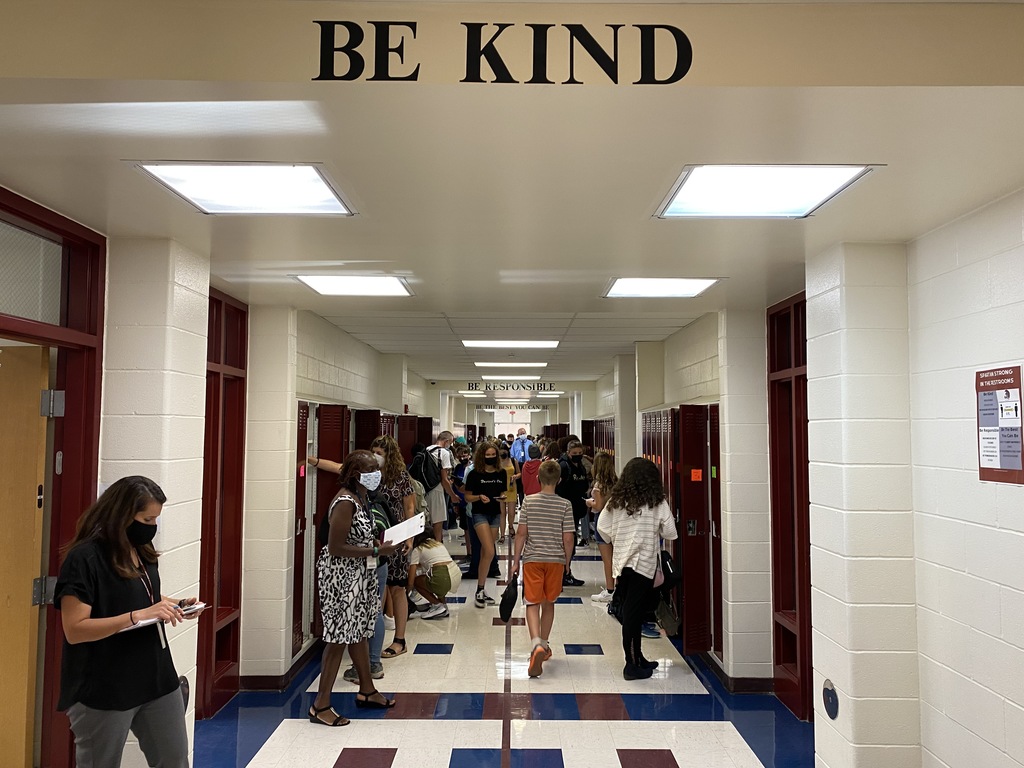 Great News! The YMCA has met the minimum enrollment requirements and will have an after-school care program at Scott M. Ellis for the 2021-2022 school year. If you would like to sign-up or would like additional information, please contact the YMCA.

It is an honor to introduce myself as the new principal at GHS. I have been dedicated to the field of education for over 18 years. I live with my husband Jason, we have a son who is a senior in high school and a six month old Goldendoodle. To our GHS students, I cannot wait to meet each and every one of you! To our GHS families, I look forward to partnering with you as we prepare our students for their bright futures ahead. - Mrs. Kristy Goergen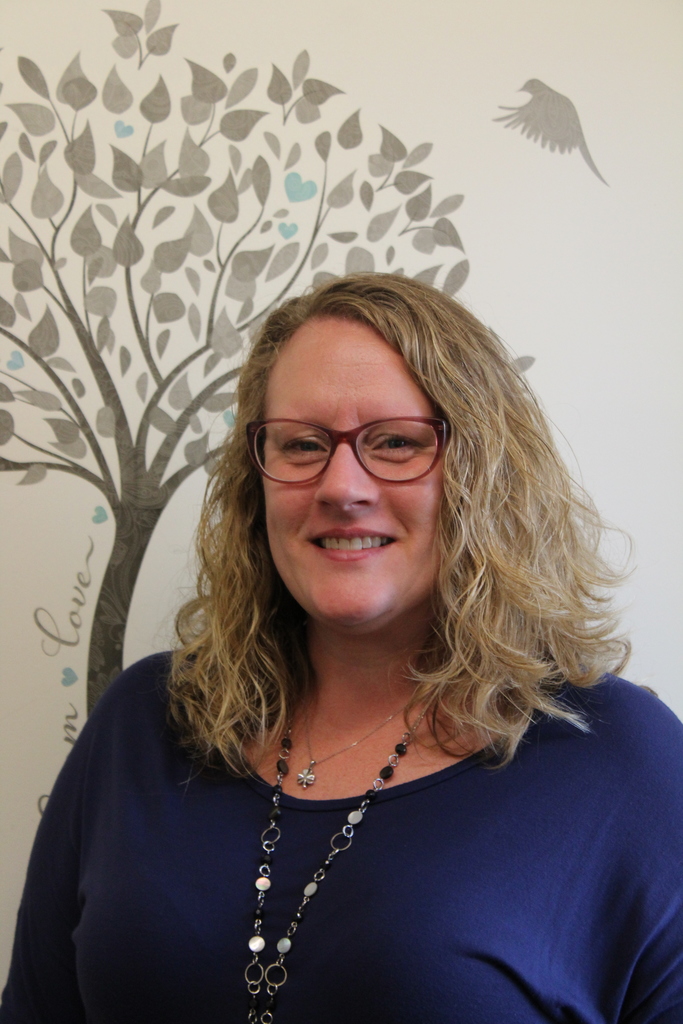 Please welcome our new K-12 District Principal Matthew Berkshire! Mr. Berkshire has 19 years of experience in education as a teacher and administrator. He joins us from the Schenectady City School District where he was the principal of Paige Elementary School. Mr. Berkshire lives in Middleburgh with his wife, Tracy, and two children, Robin (6) and Emory (4). Mr. Berkshire enjoys traveling with his family, competing in triathlons and hosting his own radio show.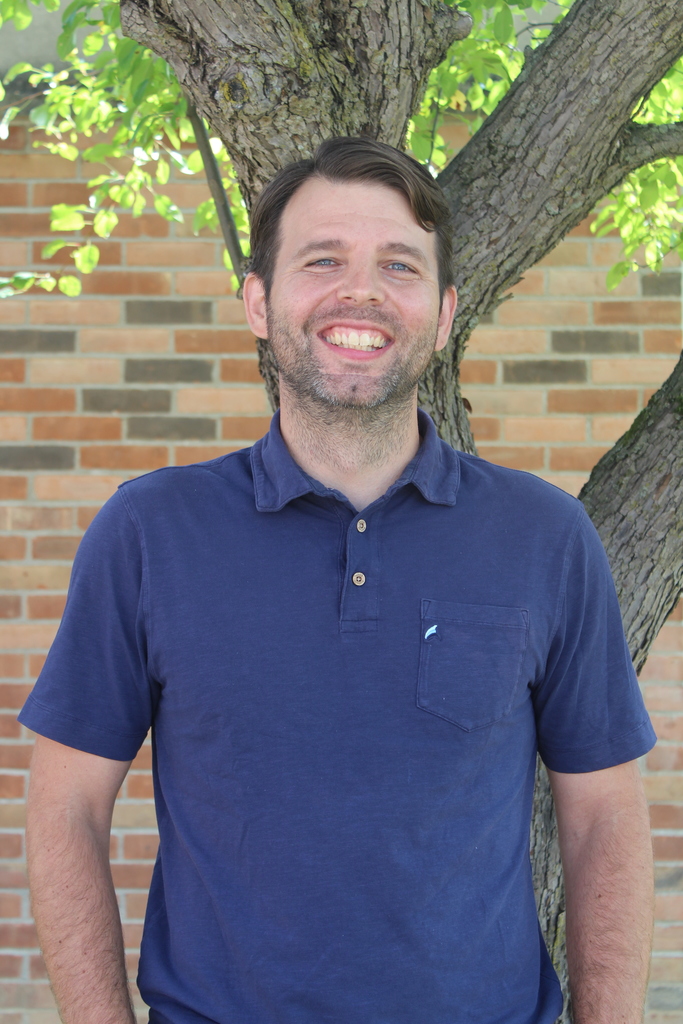 Fall Sports Registrations and Important Dates The Fall sports registrations are closing on August 19, 2021. If you have not registered your child on FamilyID for fall sports please do so before August 19th. The "Intent to Participate" was NOT the full registration. Our Fall athletic programs still have room for more participants. Currently, the teams that have the lowest numbers and may be in jeopardy of not running this fall are: Varsity girls cross country (4) Modified girls cross country (4) Modified girls soccer (11) Modified boys soccer (8) The girls cross country and the boys and girls soccer programs at Greenville have been very successful over the years. If your child has an interest in running or playing soccer please register now. Important Fall Dates: August 23, 2021 - JV/Varsity Sports Begin August 30, 2021 - Modified Sports Begin September 10, 2021 - Fall Sports Picture Day September 20-25, 2021 - Homecoming Week Let's have a great season! Ms. Wickham
Help Support the GCS Athletic Programs! Join us for a day of great golf, excellent food, prizes & fun! Date: Sunday, August 29th (rain or shine) Time: 1:00pm Location: Thunderhart Golf Club, Freehold, NY Format: 4 Person Scramble Fee: $90.00 per player (includes green fee, cart, lunch, dinner, donation, and prizes) Call Kevin Smith at Thunderhart Golf Club @ 518-634-7816 to reserve your slot.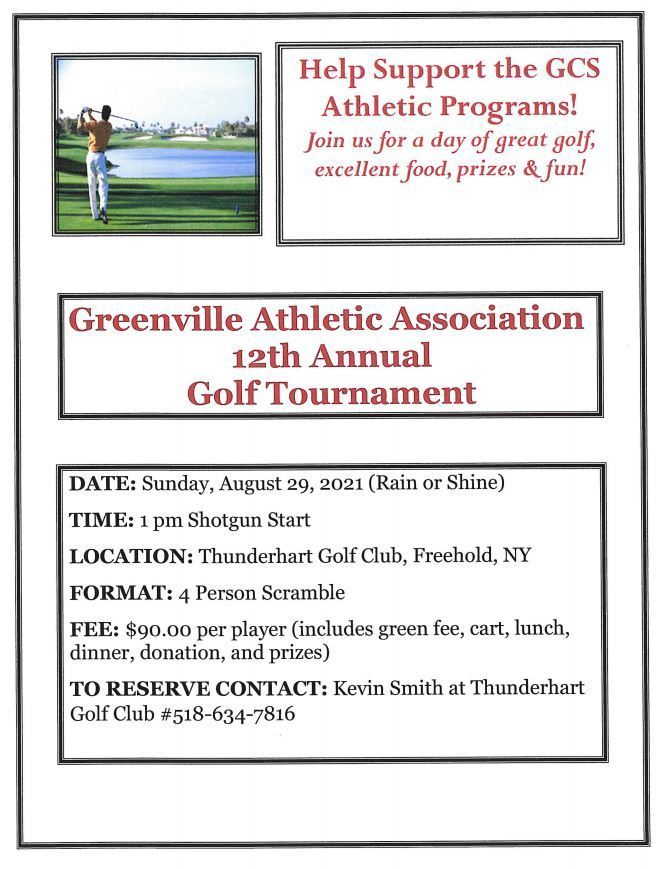 Class of 2022 - Set up your senior portrait session with UpState today. See attached flyer. Upstate will be here next week Monday - Thursday, August 9 -12.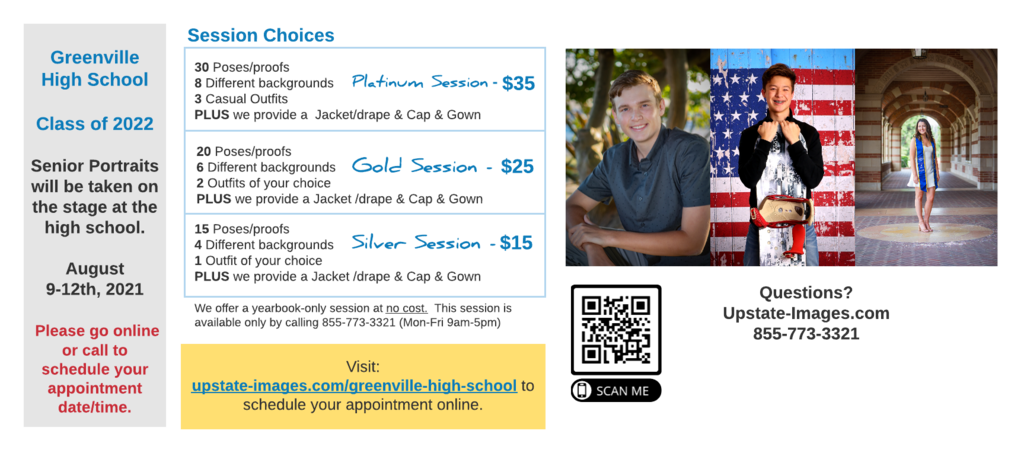 Dear Member of the Class of 2022 , Let the planning begin... We are excited to be the official photographer for Greenville High School. Upstate Images photographers will be at the high school on: August 9, 10, 11, 12, 2021. A portrait sitting should be scheduled with Upstate Images to be included in your senior yearbook. Deadlines must be met to be included in the yearbook; please have your portrait taken as soon as possible. Dates and times are limited, so sign up for your slot today. Plan ahead: 2-3 weeks before picture date – Select the sitting session that best fits your needs and visit or call 855-773-3321 to schedule your appointment. If you would prefer to schedule your appointment at our Clifton Park studio. Visit to schedule your appointment at the studio. Sittings include (Sitting fees are prepaid online when the session is booked): ● Platinum - $35 sitting fee – Sitting includes up to 30 images - a tuxedo or drape + Cap & Gown + 3 casual outfits of your choice and multiple background choices. ● Gold - $25 sitting fee - Sitting includes up to 20 images - a tuxedo or drape + Cap & Gown + 2 casual outfits of your choice and multiple background choices. ● Silver - $15 sitting fee - Sitting includes up to 15 images - a tuxedo or drape + Cap & Gown + 1 casual outfit of your choice and multiple background choices. ● Yearbook only – This sitting is free of charge and includes 4 images (Call our office to schedule a yearbook only appointment, this session is not available to schedule online.) DO NOT MISS YOUR APPOINTMENT, times and dates are limited. Be sure to bring: Plain white t-shirt to wear under the tux shirt. Collared shirt to wear under the gown (for the cap & gown images). Tank top that the straps can be moved to your shoulders under the drape. Makeup for touch-ups, jewelry, favorite outfit(s). Be prepared from head-to-toe for pictures and bring your props (sports uniform, favorite instrument, etc.). AFTER your session Your images will be available to view within 24 hours of your sitting.. Upon review of your images, select the image you wish to appear in the yearbook. Packages, Graduation Announcements, etc. may be ordered online as soon as your images are available. Your yearbook selected image must meet these requirements: Yearbook Pose = Vertical image - All images must meet school rules/restrictions for dress code and appropriate behavior. If your selected image does not meet these requirements the yearbook adviser reserves the right to select another image. (The studio will provide the tuxedo, drape, and cap & gown for individuals that wish to use them.) We look forward to helping you treasure this year! Please call 855-773-3321 or contact the school, if you have any questions or concerns. Sincerely, Upstate Images Photography Staff & Greenville High School Yearbook Staff

Fall Sports Registrations open now. If your son/daughter is interested in trying out for a Fall sport please go onto FamilyID to register. Greenville offers the following Fall Sports for high school students: Grades 9-12 Varsity Boys & Girls Cross Country Varsity Golf JV/Varsity Boys Soccer JV/Varsity Girls Soccer Varsity Girls Tennis JV/Varsity Girls Volleyball Students in grades 7 or 8 need to sign up for modified sports (exception golf) on July 30th. IMPORTANT: The "Intent to Participate" completed in June is not registration for a Fall sport. You MUST register your child by clicking on this link
https://www.familyid.com/organizations/greenville-csd-athletics
or following the link on the athletic page of the school website. Directions for using FamilyID are attached.

GAA 12th Annual Golf Tournament

Farewell and many thanks to Eileen Kiefer, Chris Lochner, Anne Marie Conroy-Robinson, Leslie Kudlack and Nancy Lockwood (missing from photo) for their many years of dedication to the district. Enjoy retirement!!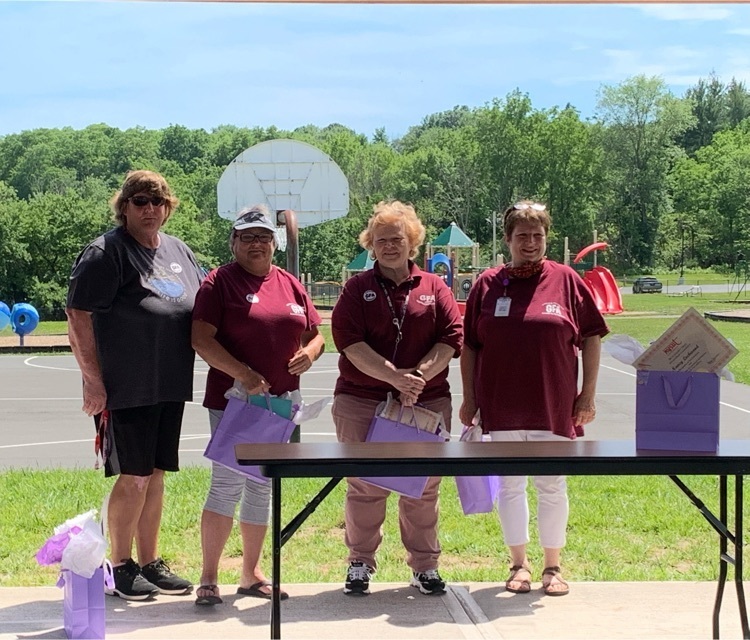 Congratulations to the class of 2021! Great opportunities are ahead and you will make Greenville proud!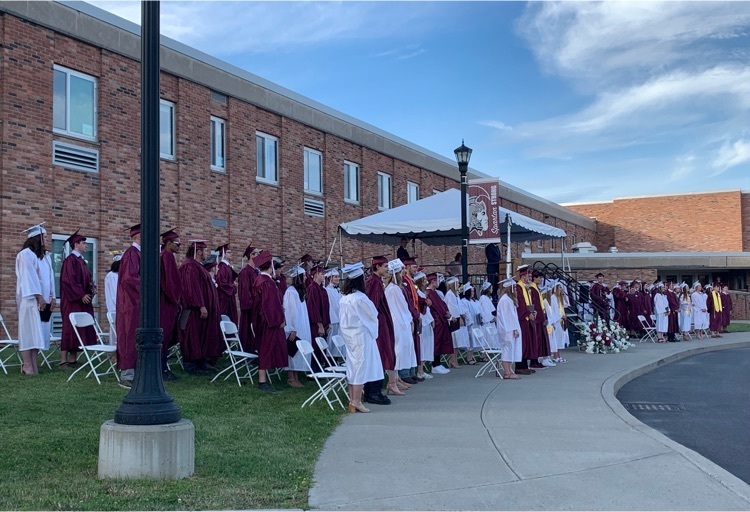 Below is the link for the live HS Class of 2021 graduation feed. The graduation will also be recorded for later viewing. Graduation will be Friday, June 25th @6pm In person attendance is limited and requires tickets.
https://www.youtube.com/watch?v=Pdz5ulGc12k&authuser=0

ATTENTION HS Students: Laptops can be turned in on the last day of school, Thursday, June 24th at the end of the school day.  Laptops can also be dropped off on Thursday, June 24th 12:30 - 7:00pmandFriday, June 25th from 7:00am - 11:00amDrop off will be at the greenhouse.  


This year has definitely been one for the books. From mask wearing to social distancing, we have made it through one of the most challenging years yet. This year the Middle School students were unable to do a live theatre production. This was tough on the students, as we have so much talent just waiting to be showcased. We did, however, have a small group of students write their own monologues, direct and act in them; as well as design their own sets and costumes. This was an amazing opportunity for those involved and I am so proud and thankful to have been a part of it! Lately I have had many students asking if we will be able to do a live theatre production next year, and the answer is yes! Although I am still reading through scripts to finalize the production, I am already making plans for the Fall. Once we jump into the production we only have 2 months to work. It takes a lot to plan a production and I thought it would be great to get a head start. Due to Covid there will be many regulations and restrictions prohibiting us from certain forms of income that help make these shows such a success. With that said, I would like to announce our Middle School Drama Club will be selling Norwex from June 15th through June 22nd! This is not only an amazing opportunity for the Drama club to earn the total commission of the proceeds (35% of sales), but to help save the environment. Norwex's mission is to drastically reduce the amount of chemicals in the home, something I feel is very important. I will host a zoom meeting on June 17th at 6pm. I will provide live demonstrations of the products as well as answer any questions you may have. The following links provide information about Norwex and the products. To place an order, click the shopping link below. The items will be shipped directly to your home.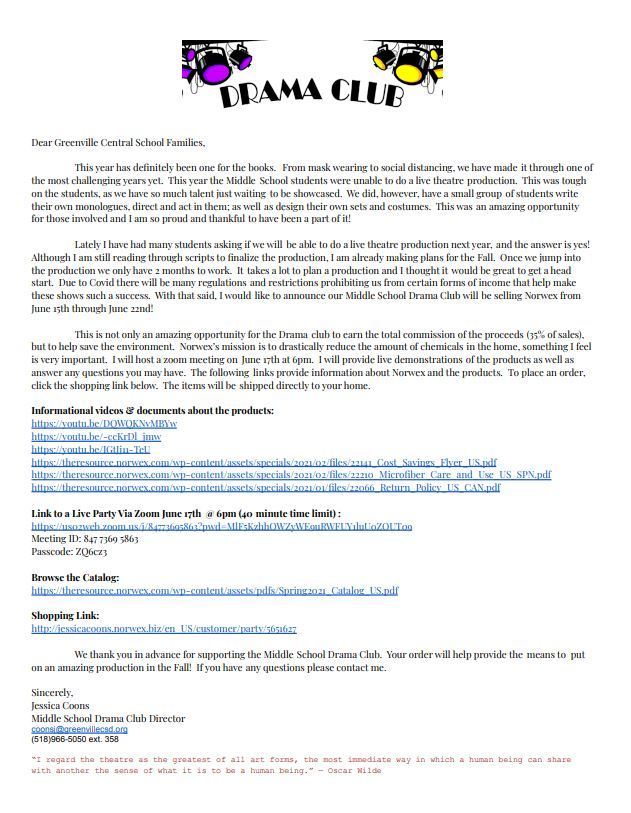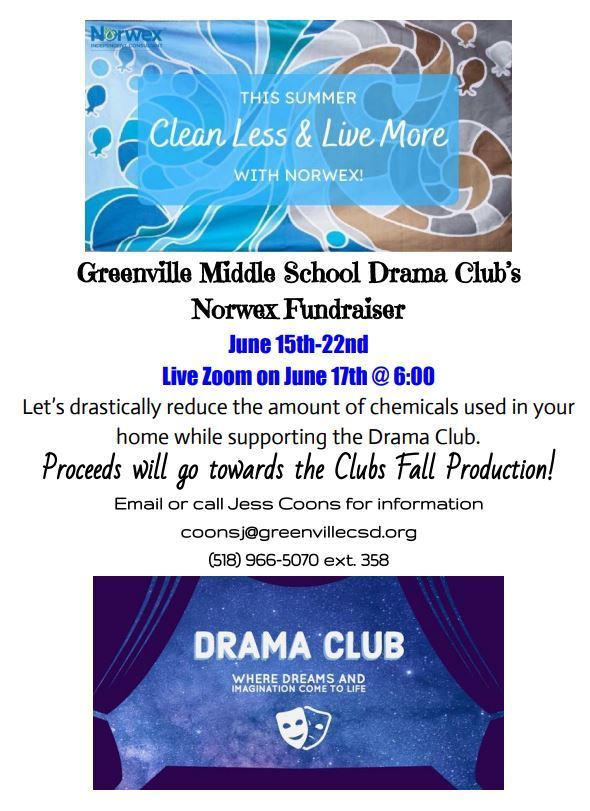 Tess Fitzmaurice became the Section 2 (Group 4) champion on Saturday, June 5th at Gloversville in the steeplechase. Tess ran a 7:19.96 which also earned her a new school record. Great job Tess. You are Spartan STRONG!

The Greenville varsity baseball team will be hosting Cohoes on Tuesday, June 8th for a sectional game at 4:00pm. Good luck boys.
GCSD will be holding a Ride & Drive Event on July 12 & 13th from 8-1pm. If you are 21 years of age or older, this is a great opportunity to sit in the driver's seat, drive a school bus on our campus while a licensed CDL driver instructs you. The District provides FREE training to assist you in acquiring your CDL license. To sign up or inquire additional information, call (518) 966-5070 Ext. 461 or 463. View flyer @
https://5il.co/tk0s