FFA will be hosting their annual Open House on Saturday, December 4th from 9:00am to 3:00pm under the white tent located next to the high school. The students have many items available: wreaths, swags, centerpieces, kissing balls and mini gnomes. You may also pick up your pre-orders on Saturday. Thank you for your support! Greenville FFA

Class of 2022 Holiday Craft Fair! Saturday Dec. 4th from 10am to 3pm 4976 State Rt 81 Greenville Crafts, Gifts, Baked Goods, FFA Greenery Sale, Silent Auction, & More!

Join us at GCS HS for our Holiday Craft Fair. December 4th, 10 - 3.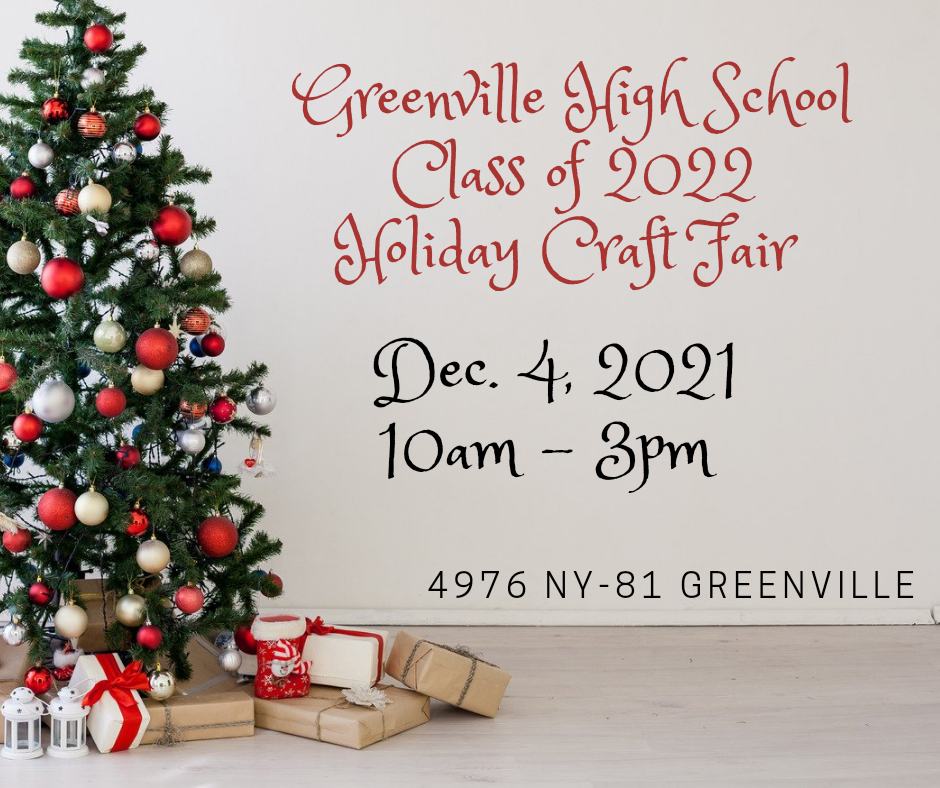 Greenville High School Holiday Craft Fair Dec. 4, 2021 10 - 3 Lots of Crafters & Vendors Bake Sale Silent Auction FFA Greenery Sale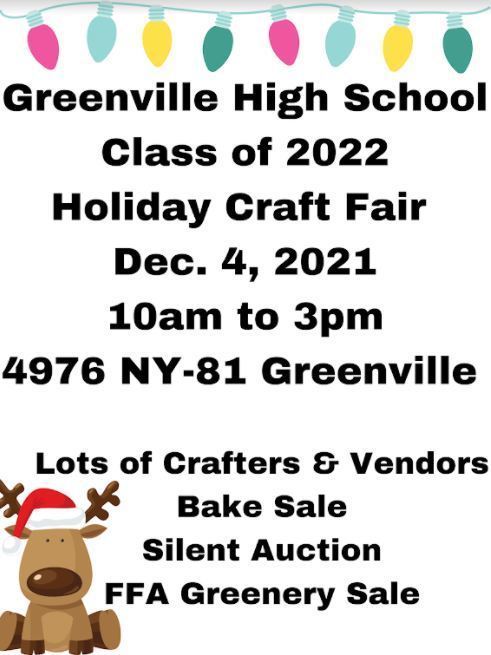 Do you like to cook? Do you need a gift for that hard-to-buy-for person? The Greenville MS/HS PTSA has you covered! From now until November 30th, the PTSA is selling gourmet olive oils, vinegars and salts from Saratoga Olive Oil Company. If you have never tried them, you are in for a treat! From salad dressings to marinades to cooking or even dipping sauces, these products are versatile and delicious! Check out saratogaoliveoil.com for recipes and pairing suggestions. We have been assured by Saratoga Olive Oil that delivery will be made before Christmas. Please use the attached Google form to submit your order. Payment (cash or checks) can be sent to the HS office/attn: PTSA (make checks payable to GCS PTSA). Please note that payment MUST be received by November 30th or your order can not be submitted. Please contact Kelly Hubicki (
kellyhubicki@gmail.com
or 518-669-3932) if you have any questions. Link to order:
https://forms.gle/qHc9EBkseLNvw4sf8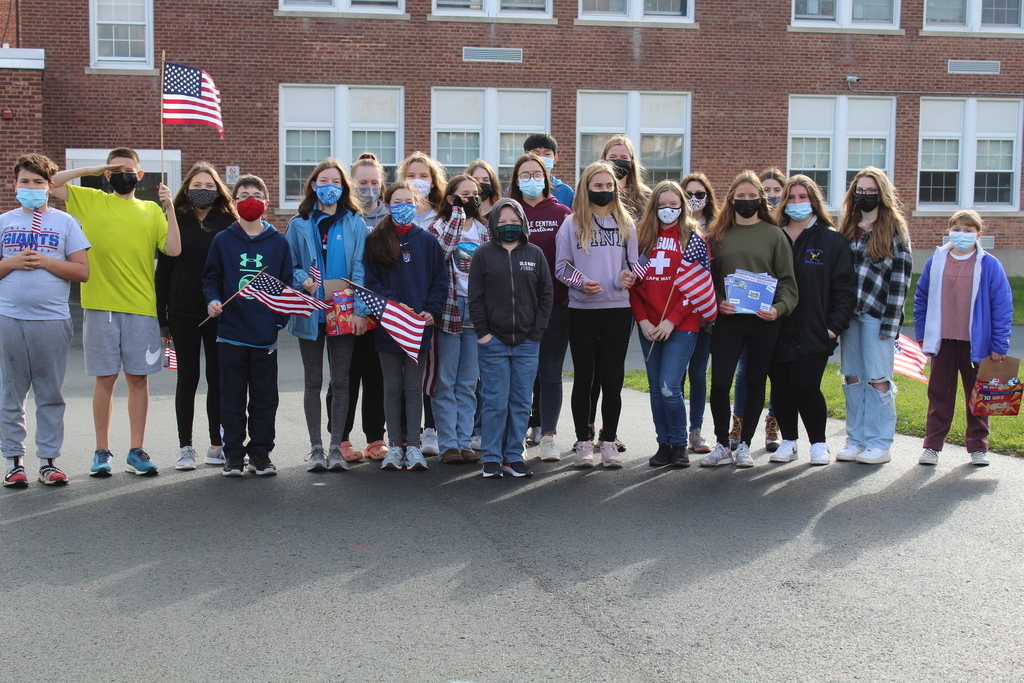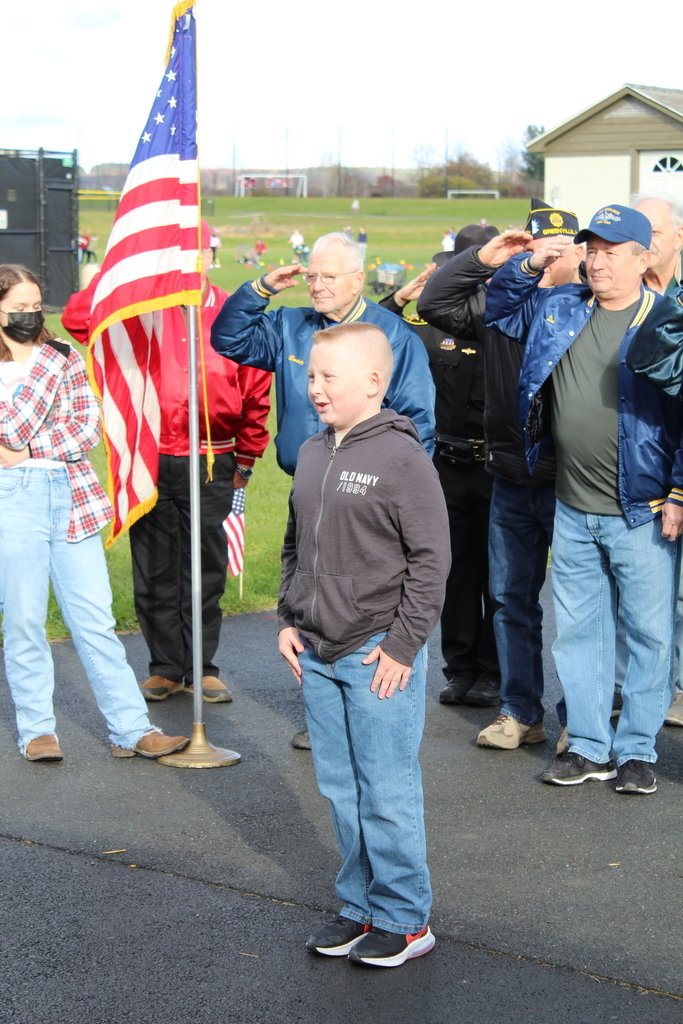 HS Picture re-takes, Tuesday, 11/16 during lunch periods, 11 - 1:15.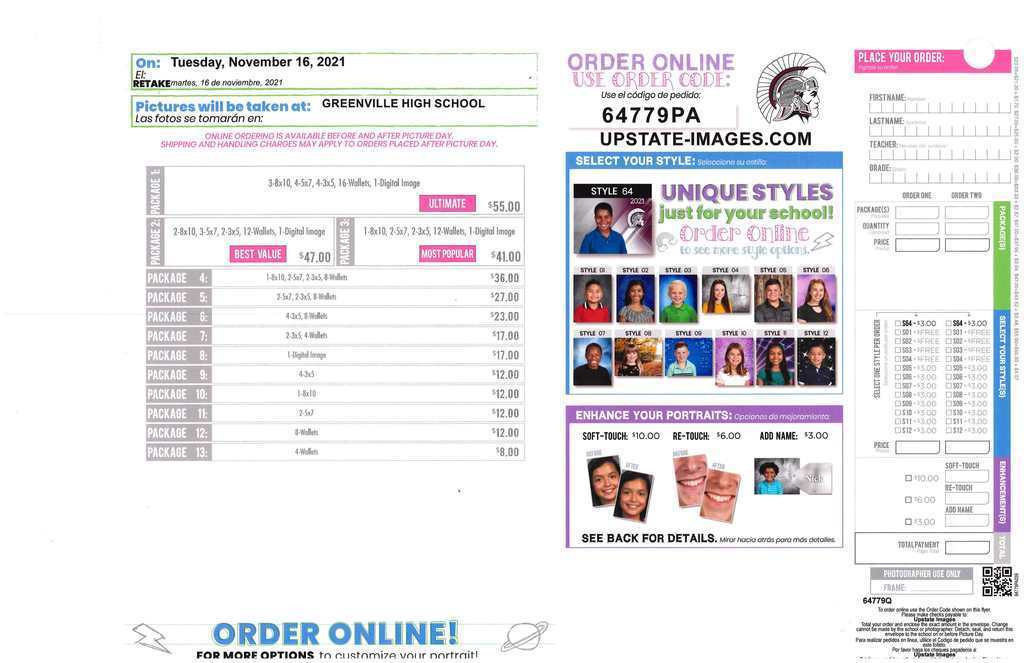 Class of 2024 Election Day Chicken BBQ Tuesday, November 2, 2021 3:30-5:30 @ Greenville Gazebo Come support the GHS Class of 2024 Pre-Orders being taken now! Order Tickets Here! Checks written to Class of 2024 Any questions email Erica Connery or Kelsey Tremblay
connerye@greenvillecsd.org
tremblayk@greenvillecsd.org
Dinners-$12.00 include ½ chicken, baked potato, coleslaw, and dinner roll

Please consider donating food for our yearly food drive. The food directly serves families in our community. Thank you.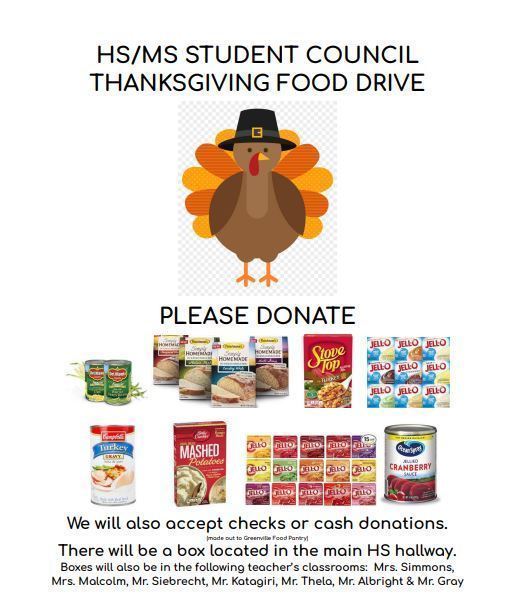 Join in TWIN DAY, this Friday!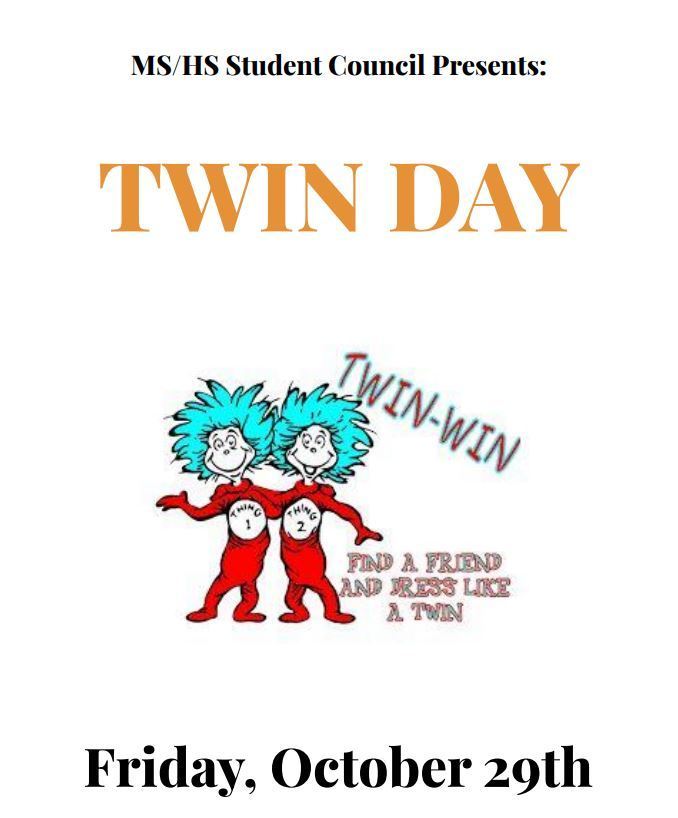 The Greenville girls soccer team finished their season today with a defeat to Holy Names. Great season Lady Spartans!

Congratulations to our boys on their victory over Ichabod Crane to advance to sectional semi-finals. All Sectional events are now CASH FREE. Section 2 will be accepting Digital Tickets through GoFan ONLY! Please purchase your tickets ahead of time for the semi-finals at Gloversville on October 27th at 5:00pm. Follow the steps below to purchase tickets: 1. Go to
www.gofan.co
2. Search "Section 2" 3. Select the event to purchase ticket for Please forward this information to others who may be attending the semi-finals to support our Spartans. Let's go Spartans!

LOCAL ROUNDUP: Smith, Greenville stand out at Patroon Medalist Tournament t.ly/fjs3
The GCSD Board of Education has begun a search for the new Superintendent of Schools. They invite parents, guardians, students, employees, and the community to complete the survey below. Your input will assist the Board in developing a profile of desirable qualities of this individual. The survey questions ask you to rate how important various attributes or characteristics of the next Superintendent are to you. Once the survey period closes on October 22nd, a summary of all responses will be completed and the Board will use it to help evaluate the various individuals that have applied. This survey is anonymous and your input is greatly appreciated!
https://qfreeaccountssjc1.az1.qualtrics.com/jfe/form/SV_6R2gddbCPqjzmpo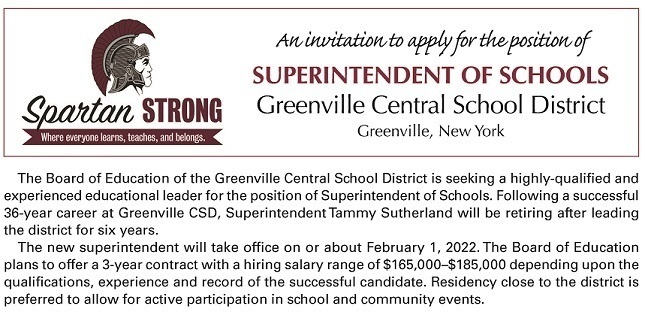 Wear your smile for HS Picture Day, Tuesday October 5th.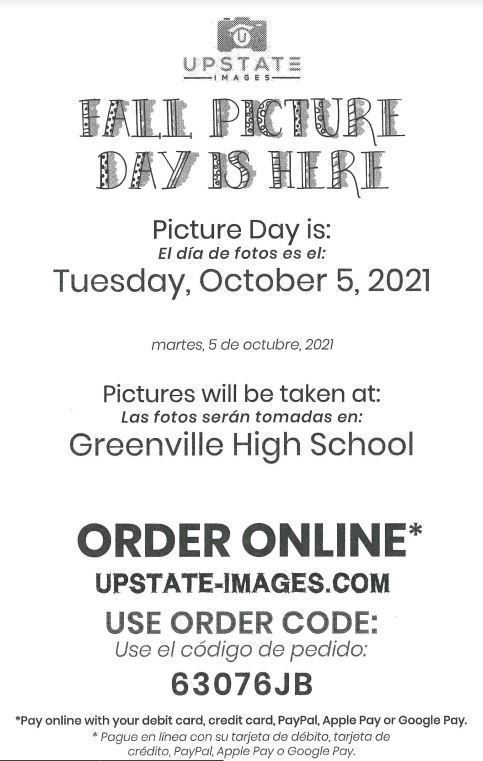 HS Picture Day 10.5. 2021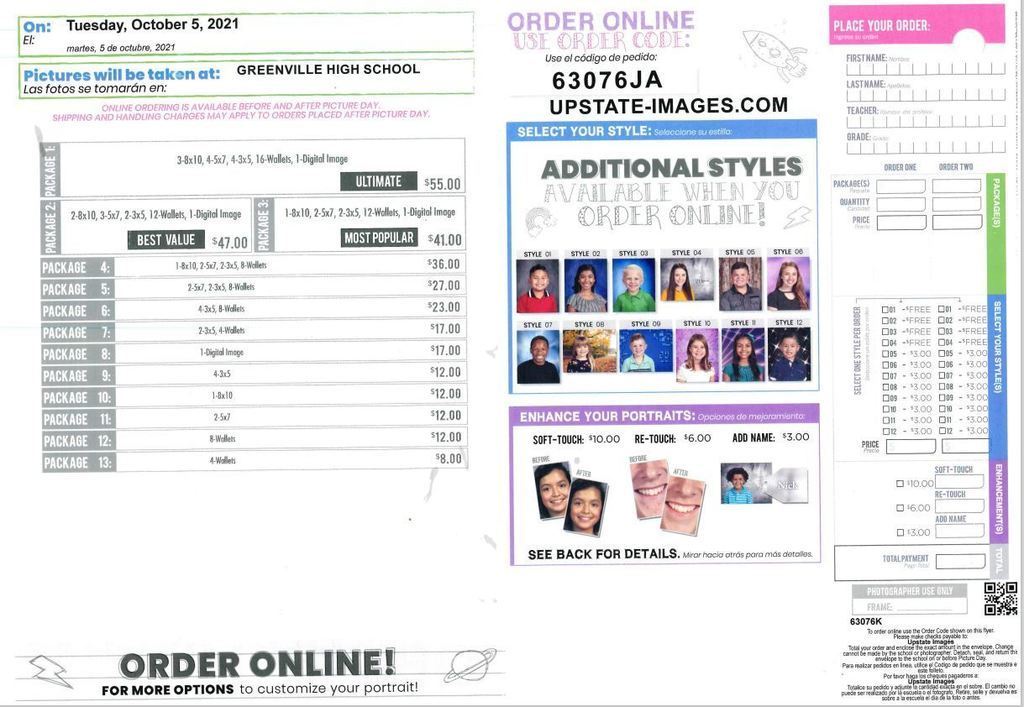 Attention Class of 2022 - Don't miss out on getting your senior portraits done at school September 27th. We are excited to be the official photographer for Greenville High School. Upstate Images photographers will be at the high school on: September 27, 2021. A portrait sitting should be scheduled with Upstate Images to be included in your senior yearbook. Times are limited, so sign up for your slot today. Visit upstate-images.com/greenville-high-school or call 855-773-3321 to schedule your appointment. If you would prefer to schedule your appointment at our Clifton Park studio. Visit upstate-images.com/upstate-images-clifton-park-studio to schedule your appointment at the studio. Sittings include ( Sitting fees are prepaid online when the session is booked) : Silver - $15 sitting fee - Sitting includes up to 15 images - a tuxedo or drape + Cap & Gown + 1 casual outfit of your choice and multiple background choices. Yearbook only – This sitting is free of charge and includes 4 images (Call our office to schedule a yearbook only appointment, this session is not available to schedule online.) DO NOT MISS YOUR APPOINTMENT, times and dates are limited. Be sure to bring: Plain white t-shirt to wear under the tux shirt. Collared shirt to wear under the gown (for the cap & gown images). Tank top that the straps can be moved to your shoulders under the drape. Makeup for touch-ups, jewelry, favorite outfit(s). Be prepared from head-to-toe for pictures and bring your props (sports uniform, favorite instrument, etc.). AFTER your session Your images will be available to view within 24 hours of your sitting.. Upon review of your images, select the image you wish to appear in the yearbook. Packages, Graduation Announcements, etc. may be ordered online as soon as your images are available. Your yearbook selected image must meet these requirements: Yearbook Pose = Vertical image - All images must meet school rules/restrictions for dress code and appropriate behavior. If your selected image does not meet these requirements the yearbook adviser reserves the right to select another image. (The studio will provide the tuxedo, drape, and cap & gown for individuals that wish to use them.) We look forward to helping you treasure this year! Please call 855-773-3321 or contact the school, if you have any questions or concerns. Sincerely, Upstate Images Photography Staff & Greenville High School Yearbook Staff